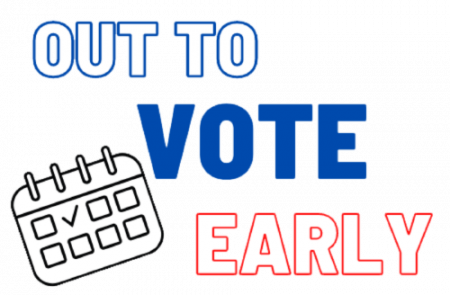 We are excited to introduce OUT to Vote Early, an initiative created by the Texas LGBTQ Chambers of Commerce, a nonpartisan coalition. OUT to Vote Early is designed to educate and motivate people to vote early. The initiative allows participants to engage their community to more safely participate in our democracy.
We want to thank all those who participated in Out To Vote Early. While we patiently wait for all votes to be counted, we are getting our state-wide election news from Texas Monthly.
With early voting, we can mitigate risk and more safely and securely participate in our democracy. More and more Texans are exploring their early voting options. For the 2020 presidential primary election, more people voted early (2,071,745) than voted on Election Day (2,012,686).
During the July primary runoff election, before the cut backs to the United States Postal Service, some Texans who sought to vote by mail — and submitted their applications on time — indicated they never received their ballots. Some opted instead to vote in person. Others went uncounted. It is unknown how many were affected.
Other voters sent in their mail-in ballots only to have them returned unopened. Some of those reached county elections offices after a second attempt, while others still appeared lost on election night. It is also unknown how many were affected.
Counties reported a shortage of poll workers ahead of the runoffs, leading them to shutter planned polling places at the last minute. Plus, a new state law bans the use of mobile or temporary voting sites, meaning all early voting sites must remain open for the full early voting period.
The Lone Star State ranked 41st in the country in voter turnout in 2018. Texas LGBTQ Chambers of Commerce believes it should be easier to vote, and every Texan should be confident their vote is counted.
Why We Need OUT to Vote Early:
Cutbacks at USPS and COVID-19 bring many challenges and uncertainties ahead of the 2020 election. Our goal is to make sure every vote gets counted while reducing danger and avoiding chaos and long lines at the polls. Early voting can be a proactive solution to:
Absentee voting restrictions
Crowded polling locations
COVID-19 Risks
Inclement weather
Shortage of poll workers
Postal delays
You CAN help get out the vote through the Out to Vote Early campaign! Participants will receive Out to Vote Early content to share with their community, network, fans and followers. Participating individuals and groups will be provided with a uniform toolkit to help bring visibility and awareness to, not only voting, but voting early. Participants can be individuals, non-profit organizations, employee resource groups, school groups, neighborhood associations, and anyone who is making a plan to vote.  All you have to do is use your platforms to inform your members, friends, and followers why and how to prepare and participate in early voting.
Absentee Voting (Vote by Mail):
Early voting period: Tuesday, October 13 – Friday, October 30.
Find your early voting polling location here. Note: You will have to put in the selection criteria and click submit to be taken to your county's list of early voting locations
Candidate Ballot Order here
For a sample ballot, go to your County Election website.
Texas Driver License issued by the Texas Department of Public Safety (DPS)
Texas Election Identification Certificate issued by DPS
Texas Personal Identification Card issued by DPS
Texas Handgun License issued by DPS
United States Military Identification Card containing the person's photograph
United States Citizenship Certificate containing the person's photograph
United States Passport (book or card)
Tuesday, September 1
National Poll Worker Recruitment Day
(Check your county to find deadline to apply to become a poll worker for early voting)
Tuesday, September 22
National Register to Vote Day
Monday, October 5
Voter Registration Deadline
Wednesday, October 13
Early Voting Begins
Saturday, October 17 National Early Voting Day (Look in your city for free public transportation to the polls.)
Friday, October 23
Last Day to Apply for Ballot by Mail
Thursday, October 30
Early Voting Ends
Tuesday, November 3
Election Day